K.Millichamp & Sons for general or specialised haulage
K Millichamp & Sons is continuously expanding offering a wider variety of services within our haulage and warehousing. With the need to diversify within the haulage sector and the ever changing needs of new/present customers the investment in specialist equipment will allow the company to cover even more areas within the transport industry.

We now have three trombone trailers which can extend and provide a 55ft trailer bed for abnormal loads. Our service includes full road routing compliance – plus full notification to all relevant police areas as per roads used.

In addition to our 25 fleet of running trailers, we currently provide:

Step frame trailers
Upside down trailers
Flat bed trailers
45 ft curtain/box tri axle (tail lift) trailers
Secure storage trailers

K Millichamp & Sons is proud of its transport fleet of tractors and trailers which enables us to provide the best service that we possible can within the haulage industry.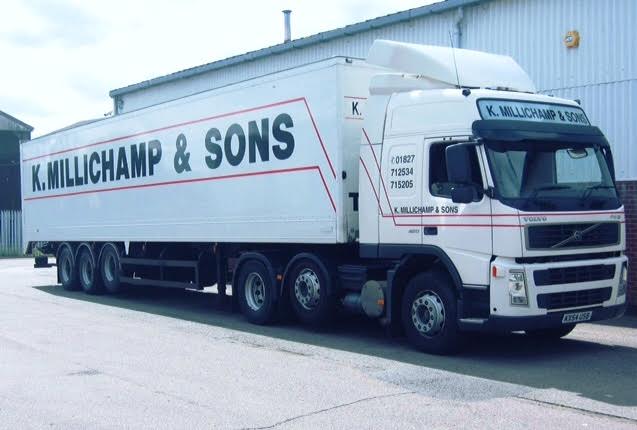 Call us to see how we can help with your haulage, storage, and handling
Should you require any of the above services do not hesitate to telephone, email or fax and one of our representatives will contact you by return.

K.Millichamp & Sons
Atherstone, Warwickshire
CV9 1JA
Email: c.millichamp@btconnect.com
Email: r-millichamp@btconnect.com

Phone: 01827 715205
01827 712534
01827 718179
Fax: 01827 711759